William de Blaise 1961
Description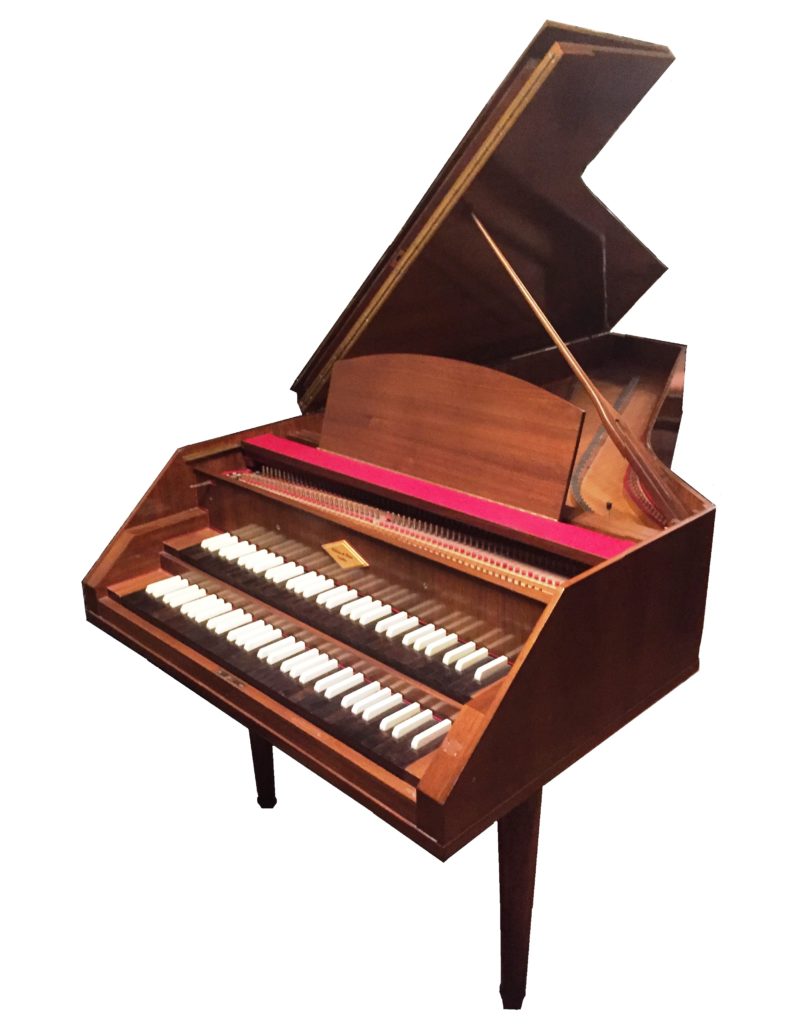 The harpsichords made by William de Blaise are particularly interesting in the development of the modern harpsichord construction. In addition to major German manufactories such as Neupert, Ammer or Sperrhake this instrument shows the typical "Rastenbauweise" (industrial/serial construction) in England after the Second World War.
The case is made in walnut with shellac and stands on three conical round legs. The jacks are made of wood and have leather plectrums. Furthermore, it has a lyre with four pedals and a hand stop on the left side above the keyboard. The instrument is made in the typical "Rastenbauweise" (industrial/serial construction) of that period. The nameboard bears the inscription:
"William de Blaise
London"
On the right side of the wrest plank the stamped serial number 578. In addition to the serial number, there is a drilled holder for the original tuning key. The keyboard has a compass of 5 octaves (GG – g3) and is made of plastic. The disposition (8 ', 8'-lute, 4 ', 16′, 16'-lute) is based on the popular Bach disposition of that time. This goes back to the disposition of a harpsichord in the Musical Instruments Museum in Berlin. The harpsichord in the Berlin collection, which was probably built by Johann Heinrich Harrass (1665 – 1714), acted as some kind of prototype with its disposition for the newly build harpsichords (see: H. Henkel: "Der Cembalobau der Bach-Zeit im sächsisch-thüringischen und im Berliner Raum", in: "Bericht über die Wissenschaftliche Konferenz zum II. Internationalen Bach-Fest der DDR", Leipzig 1977, pp. 361–374.)
The instrument by Harrass supposedly came from the possession of Wilhelm Friedemann Bach, who is said to have inherited it from his father Johann Sebastian Bach. However there is no proof of this. It can be assumed that the aura of the name and the alleged provenance of Johann Sebastian Bach have contributed decisively to the fact that precisely that instrument in Berlin acted as a prototype.
The entire William de Blaise harpsichord is very well and precise made (especially the case). The cases were made by the Welmar Piano Company and the other works like stringing, voicing and action were made by de Blaise himself. Through the cooperation with Welmar he was able to produce around 60 instruments per year.
The sound of this harpsichord is very rich in overtones and more "silvery" than for example the instrument by Martin Sassmann in the Eric Feller Collection (see: Harpsichord Martin Sassmann ca. 1960 – click here).
William de Blaise was born in Latvia in 1907 and was a flutist in the Israel Philharmonic Orchestra until he moved to England in 1952. There he built harpsichords, which were in the modern construction tradition of the German instrument makers. In addition to the usual instruments he built also small harpsichords with small dimensions under the name Harpsichord Traverso, which he sold with great success. He also was the only one who built three-manual harpsichords after the dispositions of Hieronymus Albrecht Hass (1689 – 1752).
| | |
| --- | --- |
| Circumference: | 5 octaves (GG – g3) |
---
| | |
| --- | --- |
| Mechanics: | wooden jacks with leather plectrums - (8 ', 8'-lute, 4 ', 16', 16'-lute) |
---
| | |
| --- | --- |
| Pedals: | 4 pedals, 1 hand stop |
---
Signature:
"William de Blaise
London"
---