Longman and Broderip 1782 – Travel Piano
Description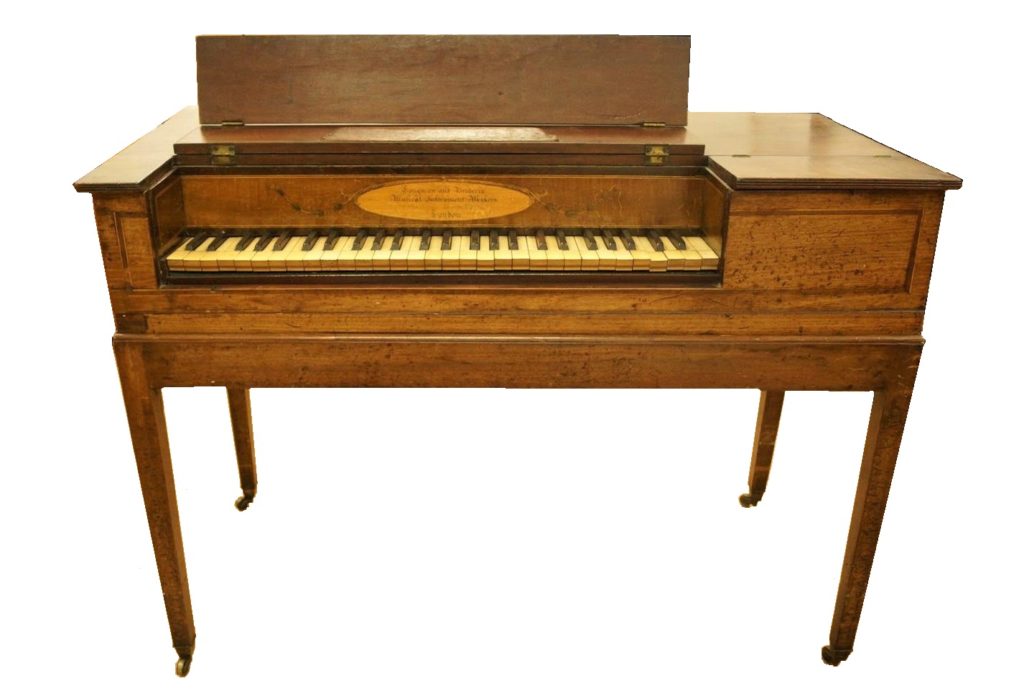 This small and rare square piano was manufactured around 1782 by the long-established and highly reputed company Longman and Broderip in London. Compared to other instruments of the time, it has smaller dimensions and a smaller keyboard range of only 4½ octaves. It is yet the only known instrument by Longman and Broderip worldwide with these specifications. Due to the small dimensions and the small range, this instrument is a travel piano, which was light and easy to transport and thus offered the possibility of making music and practicing while traveling.
In the history of instrument making, travel instruments have been documented as early as the 17th century. They were rarely made and mostly on explicit request of a customer. For more information on the history of travel instruments, please click here.
The case of the instrument is made of mahogany with different inlays. It rests on a simple mahogany frame and each the four legs have brass castors at the ends. To the left of the keyboard is a small hand stop for controlling the dampers.
The instrument has a Single Action, single damper and is double strung. The nameboard is decorated with multi-coloured, inlaid garlands and bears the inscription in an oval cartridge:
"Longman and Broderip
Musical Instrument Makers
No. 26 Cheapside and No. 13 Haymarket
London"
The keys are made of ivory and ebony, and the lower keys are each decorated with an additional notch that has been coloured with iron gall ink. This detail was very common as a decorative element on harpsichord keyboards and can be found here as a decorative remnant.
For detailed information about Longman & Broderip here!
So far, only one other travel piano with similar specifications by Longman and Broderip has survived and is now in the Metropolitan Museum in New York. The instrument there has a smaller range of only 3 octaves and has even smaller dimensions.
| | |
| --- | --- |
| Circumference: | 4 ½ octaves C - f3 |
---
| | |
| --- | --- |
| Mechanics: | Single Action with single dampers |
---
| | |
| --- | --- |
| Pedals: | 1 handstop - dampers |
---
Signature:
"Longman and Broderip
Musical Instrument Makers
No. 26 Cheapside and No. 13 Haymarket
London"
---