Johannes Broadwood 1792
Description
This is the earliest dated grand piano made by John Broadwood in the Eric Feller Collection and similar to the instrument in the Metropolitan Museum in New York USA. The case is made of mahogany with inlays of different woods. Three brass locks to close the lid are mounted around the case.
The keyboard is made of ivory and ebony, the hammers are covered with leather, triple strung and the instrument has single dampers.
The piano rests on a trestle stand with two integrated wooden pedals on both sides for lifting up the dampers (right) and due corde / una corda (left). At the end of the right side of the keyboard is a small stop which allows changing between due corde and una corda when pressing the pedal. The compass is 5 ½ octaves (FF – c4).
The nameboard bears the fine inscription:
"Johannes Broadwood Londini Fecit 1792 /

Great Pulteney Street Golden Square"
The signature on the nameboard "John Broadwood and Son" was used from 1794 after John Broadwood's son James Shudi Broadwood (1772 – 1851) entered the company. Previously all instruments like this one were always signed with "Johannes Broadwood Londini fecit" (see also the square piano from 1790 in the Eric Feller Collection – click here).
The compass of 5 ½ octaves (FF – c4) was introduced by Broadwood in 1791 – before that all instruments (grand and square pianos) had only 5 octaves.
In a letter from James Shudi Broadwood to Thomas Bradford on 13th November 1793 he wrote that they had started in 1791 (following the advice of the composer Johann Ladislaus Dussek (1760 – 1812) who was in London at the time) with building pianos of 5 ½ octaves compass.
Today it is known that John Broadwood sold his first two grand pianos in January 1785. One was sold to Tyler of Bath (a music dealer) and the other to Count Brühl, Saxon ambassador and music patron. Both pianos were sold at a price of 55 pounds each.
Today the oldest surviving grand piano by John Broadwood was build in 1787. (see: Michael Cole)
John Broadwood was born on 6th October 1732 in Oldhamstocks near Cockburnspath in Scotland. He learned the profession of being a cabinetmaker like his father before.
In 1761 he started working for Burkat Shudi (1702 – 1773) in London and in 1770 became his business partner. In 1771 he opened his own shop on Great Pulteney Street in London. In 1769 he married Burkat Shudi's daughter Barbara in her first marriage and had four children with her. After his wife's death in 1776 he married Mary Kitson in 1781 and had six children with her. He died on 17th July 1812 in London.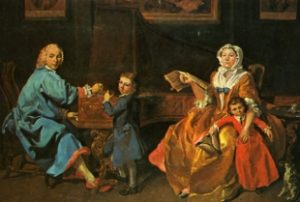 Other surviving instruments by John Broadwood and Son:
1787 grand piano (No. 208) – Collection Charles Colt, Bethersdes UK
1792 grand piano (No. 452) – Metropolitan Museum, New York USA
1800 grand piano (No. 1835) – Collection Charles Colt, Bethersdes UK
1806 grand piano (No. 3500) – Museum of Art, Columbia USA
| | |
| --- | --- |
| Circumference: | 5 ½ octaves (FF – c4) |
---
| | |
| --- | --- |
| Mechanics: | english action |
---
| | |
| --- | --- |
| Pedals: | 2 pedals controlling dampers and due corde – una corda |
---
Signature:
"Johannes Broadwood Londini Fecit 1792 /
Great Pulteney Street Golden Square"
---