Rousselot c. 1830
Description
This rare fortepiano is an instrument with typical French elegance. It was build around 1830 in Nîmes. The case is made in mahogany, rosewood and other different woods and decorated with inlays and ormolu decorations. The keyboard is made in ivory and ebony and the nameboard reads the inscription "Rousselot". Furthermore there is an inscription on the soundboard with the serial number 1299.
The instrument is straight stung and with a compass of 6 ½ octaves (CC – g4) and has an English action. Inside there are 4 metal bars and the original dust cover ("faux table"). Two pedals control the dampers and due corde.
Right now there is only little known about the company Rousselot. It was one if the companies that where not based in Paris like Pleyel or Erard (there is also the company Boisselot which was located in Marseilles).
Tonal this instrument outperforms the instruments from Pleyel and Erard and gives a high quality opportunity to hear the music of the romantic period.
There is another instrument in the Musée de la musique in Paris.
This fortepiano was restored in 2009 by Renée Geoffrion in Paris and was reviewed one year later by Rudolf Haase in Switzerland.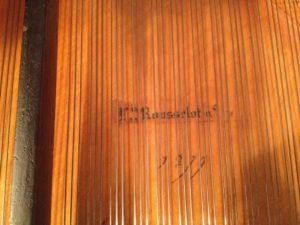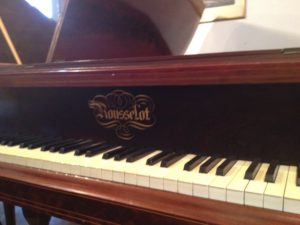 | | |
| --- | --- |
| Circumference: | 6 ½ Oktaven (CC – g4) |
---
| | |
| --- | --- |
| Mechanics: | English action |
---
| | |
| --- | --- |
| Pedals: | 2 pedals - dampers and due corde |
---
---