Robert Wales c. 1810 owned by Carolina Oliphant – Lady Nairne
Description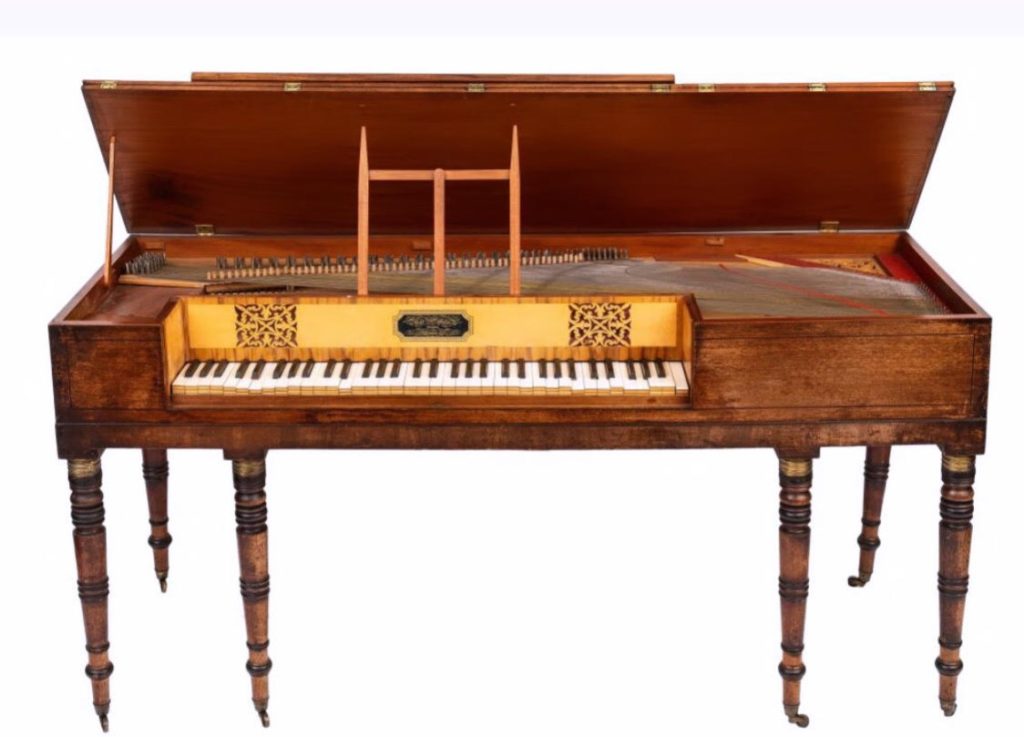 London was one of the main locations of piano manufacturing in the late 18th and early 19th century. Accordingly, many piano makers settled there and produced a large quantity of the newly, fashionable Pianofortes. The demand was enormous, since the upper middle class and the nobility showed a huge interest in these instruments. In addition to the well-known piano makers such as John Broadwood (1732 – 1812) or Muzio Clementi (1752 – 1832), there were also a large number of instrument makers who are less well known today, but whose instruments are in no way inferior to the more well-known manufacturer's instruments. Among these was Robert Wales. As a favourable addition, the here presented instrument has a very interesting history. It was owned by Carolina Oliphant – Lady Nairne (1766 – 1845), known in music history as a collector and composer of many Scottish songs and ballads.
The case of this square piano is made of mahogany with surrounding multi-coloured inlays made of different woods. The instrument stands on six turned legs with brass rollers and bronze applications. The keyboard is made of ivory and ebony and it has a wooden pedal for controlling the dampers. Inside it has a double action with leather-covered hammers and single dampers and it is double-strung. The nameboard is nicely painted and bears the signature in a rectangular cartouche:
"Royal Patent
Robt. Wales
Maker
London"
It shows a handwritten serial number on the wrestplank: No. 2300, stamped underneath: R – Wales Maker. There is also a handwritten signature in ink on the soundboard:
"Sold by Rob. Purdie
70 Princes Street
Edinburgh"
Robert Purdie came from a music publishing family that was very active in London and Edinburgh. His Scottish music shop had earned a high reputation through musical instruments and sheet music.
Furthermore, there is a handwritten signature in pencil on the back of the nameboard:
"Carolina Oliphant's Piano"
Carolina Oliphant – Lady Nairne, Baroness Nairne in the Peerage of Scotland and Baroness Keith of the United Kingdom was a Scottish collector and composer of songs and ballads. Many of her songs are still very popular in England and Scotland today. Like her contemporary Robert Burns (1759 – 1796), Carolina Nairne was strongly influenced by the Jacobean heritage, although both had different approaches to their composition and poetry. Nairne focused on an earlier romanticized version of the Scottish way of life, tinged with sadness about the past. Robert Burns, on the other hand, was more optimistic about a brighter future.
Carolina Oliphant was born on 16th August 1766 at Auld Hoose, Gask, Perthshire (the ancestral home of her father's family). She was the fourth child of the three sons and four daughters of Laurence Oliphant (1724 – 1792), Laird of Gask, and his wife Margaret Robertson (1739 – 1774). Her mother was the eldest daughter of Duncan Robertson of Struan, chief of the Donnachie clan who fought on the side of the Jacobins in the rebellions of 1715 and 1745. Her father was also a Jacobin and she received a high education, which also included music and art. Carolina grew into a charming young lady who received much praise and encouragement in the respected circles.
As a young girl, Carolina was engaged to William Murray Nairne, one of Lord Nairne's grandsons, who became 5th Lord Nairne in 1824. After he was promoted to Deputy Inspector-General of a Scottish barracks, they married on 2nd June 1806. The couple settled in Edinburgh, where their only son, William Murray Nairne (1808 – 1837), was born two years later.
In 1830 Carolina's husband died and she lived with her son in Ireland and on the Continent for a time. Her son's poor health worsened and he died in Brussels in December 1837. Carolina then returned to Gask in 1843. After suffering a stroke, her health deteriorated and she died on October 26, 1845.
Carolina Nairne began composing songs shortly after her father's death in 1792. According to her high education, she was able to read music and she played the harpsichord and the pianoforte. From an early age she was involved with folk songs and provided well-known melodies with her own lyrics. After the couple moved to Edinburgh in 1806, contact was made with Robert Purdie's music store, where Carolina most likely also acquired Robert Wales' square piano. Due to the social conventions of that time, which made it difficult for a woman in a male-dominated society, Carolina spent considerable efforts to hide her identity. She even hid her activities from her husband. In the 1820s she wrote to a friend: "I didn't even tell Nairne, lest he babble."
In order to make her compositions available to a larger audience, she began using the pseudonym "Mrs. Bogan of Bogan" or later only under the gender-neutral initials "B. B." or "S. M." to publish her work. Much of her work was published in Robert Purdie's The Scottish Minstrel (1821-24; in six volumes). Once, at the urging of her publisher Purdie, she appeared dressed up as an elderly country lady. She managed to convince Purdie that she was just a collector for the songs she had collected from common country folk. However, the entire editors of The Scottish Minstrel (which consisted only of women) was aware of her identity, as were her sisters, nieces and great-niece. During her official visits to the publishing house of Purdie, she always wore an old, veiled cloak, hoping not to be recognized. She also veiled her handwriting in her submitted works.
Lady Carolina Nairne's musical and literary work is still immanent. Her songs are part of Scottish and English folklore and they are identity-forming for many people.
Unfortunately, very little is known about the instrument maker Robert Wales. Certain is that he was working at Charles Street No. 33, Hampstead Road, Edinburgh. In 1819 he was partner of John Whitaker and had the address Paul`s Churchyard No. 75, which is proved by a single surviving instrument. It is also known that he built pianos for William Hodsoll. Based on the serial number (No. 2300) on this instrument, it can be concluded that he was very active and built many instruments. It is highly probable, however, that these instruments were not only sold under his name, but he also supplied other dealers with them.
Other surviving instruments by Robert Wales:
1819 square piano Wales, Robert, & John Whitaker (No. ?) – Western Australian Academy of Performing Arts, Edith Cowan University, Perth Australia
c.1820 square piano (No. ?) – Patricia Theodorou Collection, England
1819 – 1823 square piano by Robert Wales for John Monro (No. ?) – Peter Owen Collection, Blagdon England
c.1830 Cabinet Piano by R. Wales for William Hodsoll (No. ?) – Leipzig University Collection, Musikinstrumenten-Museum, Leipzig Germany – destroyed in WWII
References:
Bold, Valentina (2006), Ewan, Elizabeth; Innes, Sue; Reynolds, Siân (eds.), "The Biographical Dictionary of Scottish Women: From the Earliest Times to 2004", Edinburgh University Press, ISBN 978-0-7486-1713-5
Fry, Michael (2014), "A Higher World: Scotland 1707–1815", Birlinn, ISBN 978-0-85790-832-2
McGuirk, Carol (2006), "Jacobite History to National Song: Robert Burns and Carolina Oliphant (Baroness Nairn)", The Eighteenth Century, University of Pennsylvania Press
Rogers, Charles (1869), "Life and Songs of the Baroness Nairne; with a memoir and poems of Caroline Oliphant the younger", Charles Griffin
Thomson, Thomas (1875), "Nairn, Carolina", Biographical Dictionary of Eminent Scotsmen, vol. 2, Blackie & Sons
Tytler, Sarah; Watson, J. L. (1871), "The Songstresses of Scotland", vol. 2, Strahan
| | |
| --- | --- |
| Circumference: | 5 ½ octaves (FF – c4) |
---
| | |
| --- | --- |
| Pedals: | 1 pedal - dampers |
---
Signature:
"Royal Patent
Robt. Wales
Maker
London"
---