Muzio Clementi 1801
Description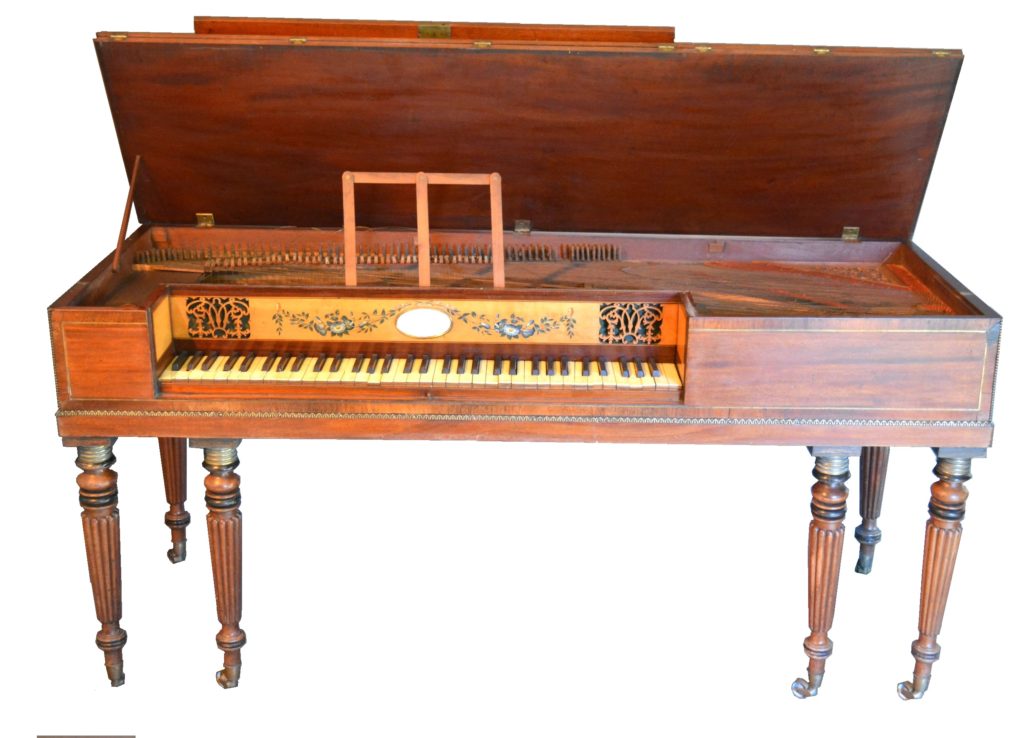 | | |
| --- | --- |
| Serialnumber: | stamped: 1845 - inked: 1481 |
---
Square pianos from the early days of Muzio Clementi's company are rare. This early instrument dates from 1801 and clearly shows the influence of Longman & Broderip, which Clementi took over some years before. It has furthermore a very progressive and refined design, with brass inlays and fluted legs, which suggests that it must be one of the more expensive and modern models that Clementi produced.
The case of the instrument is made of mahogany with encircling multicolour ribbon inlays of different woods and brass. The instrument rests on six fluted legs with brass castors. The keyboard is made from ivory and ebony. The instrument has a wooden pedal for controlling the dampers. The action is a double action with leather covered hammers, double strung and single dampers. It originally had a dust cover above the action which is missing. The nameboard is painted with garlands of flowers and tendrils and is signed in a white enamel cartouche with:
"New Patent
Muzio Clementi & Comp.
No. 26 Cheapside
London"
The white enamel nameplates on the satinwood nameboard goes back to the instruments made by Longman & Broderip, which signed their instruments this way and which Clementi also used in the early years (also under Longman & Clementi).
Square pianos by Clementi were always provided with two serial numbers: one stamped on the left and one handwritten with ink on the wrest plank (stamped: 1845 – inked: 1481).
The system used by Clementi counts with the inked number the general production of pianos since the acquisition of the company "Longman & Broderip" in 1798. The stamped numbers, however, continue the production of square pianos of the acquired company "Longman & Broderip", but only instruments with the 1794 introduced "New Patent". Other instruments (for example single action instruments, grand pianos or cabinet pianos) were added together in other groups.
Based on these serial numbers, the year of construction of this instrument can be derived to 1801. (see: Clementi & Co 1798-1830 Pianoforte Manufacture in London, Leif Sahlqvist 2013)
For more information about the company Muzio Clementi & Co. – click here!
Other preserved instruments by Muzio Clementi & Co.:
1803 square piano (No. 3468) – Newton Centre: Marlowe A. Sigal Collection, USA
1803 square piano (No. 2335) – Museu da Musica Lisbon, Portugal
1806 square piano (No. 4095) – German Museum Munich, Germany
| | |
| --- | --- |
| Circumference: | 5 ½ octaves (FF – c4) |
---
| | |
| --- | --- |
| Pedals: | 1 pedal (dampers) |
---
Signature:
"New Patent
Muzio Clementi & Comp.
No. 26 Cheapside
London"
---