Kurt Hutzelmann 1967
Description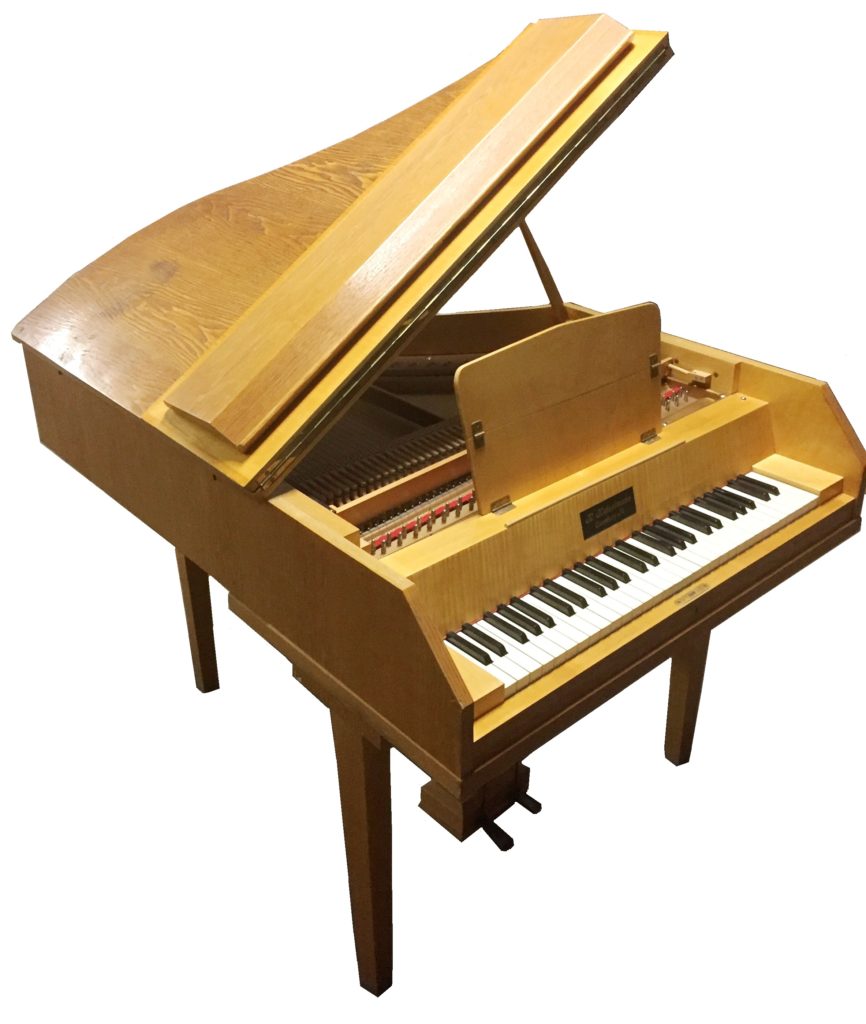 Some instrument makers tried to improve the rediscovered harpsichord in 20th century to create new sounds. The modern piano construction was used as a model for this instrument, and so this little harpsichord is a peculiarity in the further development of the harpsichord.
The one-manual instrument was built by Kurt Hutzelmann in 1967 in Eisenberg / Thuringia. It has a register (8 '). With a special construction via pedal, this harpsichord can lift the dampers (similar to the right pedal on modern pianos). Furthermore, the instrument has a lute stop. The case is made of ash wood. Above the keyboard is the inscription:
"K. Hutzelmann
Eisenberg Th."
The instrument is single-strung and has a steel frame to ensure a longer tuning. The serial number is 1747 and is engraved on the right in the steel frame. The jacks are equipped with goose quills.
Due to the sophisticated construction of the jacks (separating the damper from the jack and using a pedal for lifting the dampers), it is possible to create very interesting sound effect. This can also be combined with the lute. Unfortunately, this construction did not prevail and only very few instruments were made of this series.
Kurt Hutzelmann was born in 1889. On August 17, the piano factory Kurt Hutzelmann was founded in Eisenberg and exists till today (2019). Kurt Hutzelmann died in 1971. A more detailed description of the company history can be found on their homepage (click here).
| | |
| --- | --- |
| Circumference: | 4 ½ octaves (CC – f3) |
---
| | |
| --- | --- |
| Mechanics: | jacks with goose quills, 1 x 8' |
---
| | |
| --- | --- |
| Pedals: | 2 pedals (dampers & lute) |
---
Signature:
"K. Hutzelmann
Eisenberg Th."
---