Jacobus Ball c. 1775/80
Description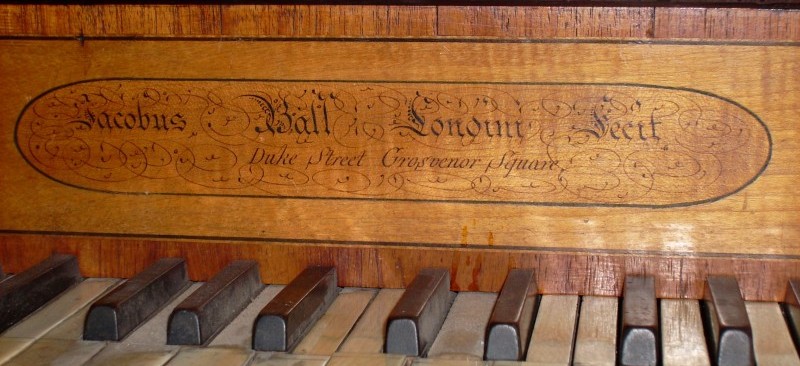 This instrument is probably the earliest surviving square piano by Jacobus Ball. The case of this small instrument is made of mahogany with inlays in different woods. The instrument itself rests on a trestle stand made in cherry wood (not original).
The keyboard is made in ivory and ebony. Two stops controlling dampers and lute. All the hammers are covered with leather and it has the simple single action.
The nameboard is decorated with an oval cartridge in which is the signature:
"Jacobus Ball Londini Fecit

Grosvenor Square"
On the back of the nameboard is a handwritten signature in ink:
"Jacob Ball No. Pat."
It looks like that this signature is made by him. Furthermore there is a handwritten signature with pencil under the soundboard:
"Wilm. 1818 "
It is highly probable that the first handwritten signature is made of Ball himself. The designation "No. Pat." could perhaps be the prototype of a particularly new small instrument made by him. Other instruments by Ball like this one are not known yet.
In different books we often find the statement that Ball first came to England in the 1790s or shortly before (1790 application for British citizenship). However this instrument shows clear structural features of an earlier type. Also the signature on the nameboard ("Londini Fecit") is an evidence for an earlier date than 1790. It is therefore likely that Ball was much earlier active as an instrument maker in England than previously thought.
About Jacob (James) Ball is very little known. In 1790 he submitted the application for British citizenship. He originally came from the continent (Germany?) immigrated to England. Also this year he had some innovations patented. This included a new piano action and an exceptional music stand, which was similar to the ones from grand pianos but when unfolded it looked as if it was part of the nameboard. (see Michael Cole)
Furthermore, he maintained a business relationship with the composer Domenico Motta in 1794.
According to Rosamond Harding, Ball was active in London from around 1780 to 1834. In newspapers he advertised the construction of grand pianos, square pianos and cabinet pianos. Several addresses are known: 26 Duke Street, Grosvenor Square, in 1806 and 27 Duke Street from 1808.
"J. Ball and Son" is from 1819 and "Edward Ball and Son" from 1824 detectable. In 1827/28 "To His Majesty" is detectable.
Other surviving instruments by Jacobus / James Ball:
c. 1780 square piano – Eric Feller Early Keyboard Instruments Collection, Germany
1790 square piano – Musical Instruments Museum Berlin, Germany
1791 square piano – Colonial Williamsburg Foundation, Williamsburg USA
| | |
| --- | --- |
| Circumference: | 5 octaves FF – f3 |
---
| | |
| --- | --- |
| Pedals: | 2 handstops for lute and dampers |
---
| | |
| --- | --- |
| Signature: | "Jacobus Ball Londini Fecit / Grosvenor Square" |
---