Gabriel Gaveau 1911 – Art Case
Description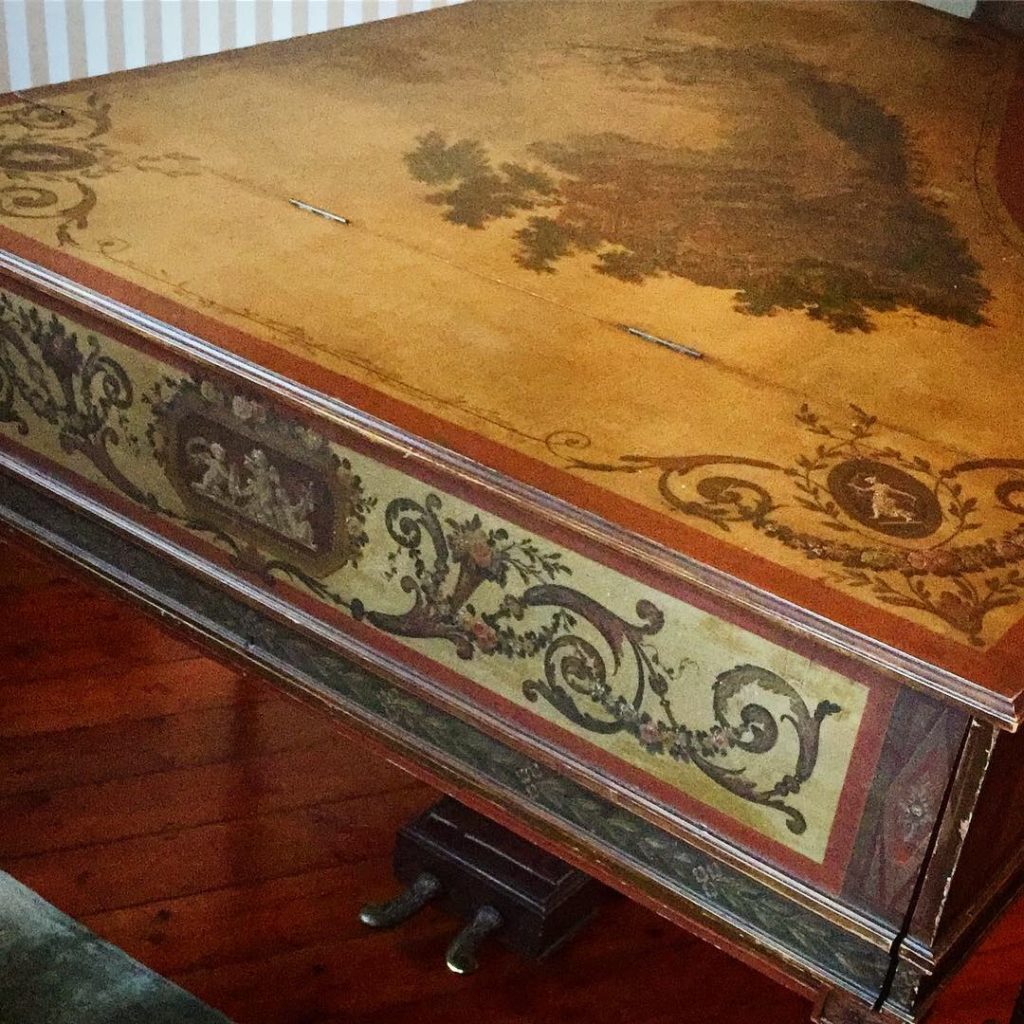 After Pleyel and Erard the Gaveau company was in the 19th century the third major pianocompany in France. In 1911 Gabriel Gaveau, one of the sons of company founder Joseph Gabriel Gaveau, founded his own company and thus entered into direct competition with his brother Étienne, who had taken over the company after the death of his father. This elegant Art Case piano is one of the earliest existing pianos by Gabriel Gaveau.
The instrument, built in form of a French harpsichord from the 18th century, stands on 6 fluted legs and is richly fine painted with flowers, angels and rocailles. In different frames, subjects of angels are depicted with musical instruments or votive offerings. The nameboard bears the inscription:
"Gabriel Gaveau
Paris
Maison fondée en 1911″
The piano is cross-strung, has a nicely decorated lyre with 2 pedals (dampers & due corde) and has a modern action. The year 1911 and the serial number 1442 are embedded inside the richly decorated cast plate.
This grand piano is "Modèle No. 2". Gabriel Gaveau made different models in different sizes:
Models           Compass                     Dimensions
Modèle K       7 ¼ octaves                smaller than 1.50 m
Modèle I         7 ¼ octaves                1.50 m x 1.48 m x 0.33 m
Modèle II       7 ¼ octaves                1.80 m x 1.48 m x 0.33 m
Modèle III      7 ¼ octaves                2.25 m x 1.47 m x 0.33 m
Modèle IV      7 ½ octaves                2.80 m x 1.60 m x 0.35 m
This Art Case piano impresses with its high elegance and art design as well as the extraordinary vocal sound.
Joseph Gabriel Gaveau was the founder of the Gaveau Dynasty. He was born in Paris in 1824. In 1847 he founded his company and was in direct competition with the already established companies Pleyel and Erard. After his death in 1903 his eldest son Étienne took over the company. In 1911, two of his 5 brothers, Gabriel and Augustin, started their own business and also built pianos. In 1960, the company Gaveau merged with Erard. In 1971, the piano company Schimmel in Braunschweig took over the rights and built Gaveau pianos until 1994.
| | |
| --- | --- |
| Circumference: | 7 ¼ octaves (AAA – c5) |
---
| | |
| --- | --- |
| Pedals: | 2 pedals - dampers & due corde |
---
Signature:
"Gabriel Gaveau
Paris
Maison fondée en 1911"
---