Christian Müller 1784
Description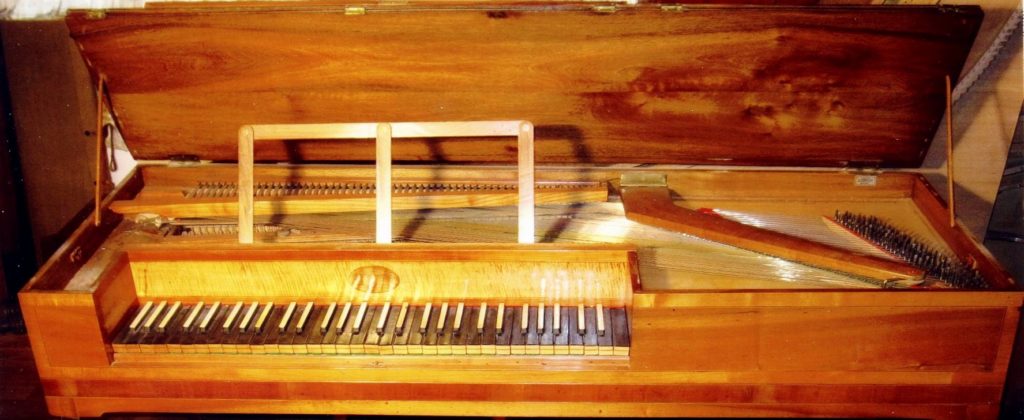 This unusual Swiss square piano was made in 1784 by Christian Müller in Bern. It shows some unusual characteristics and is probably the prototype for Muzio Clementi's (1752 – 1832) patent for the "Bridge of Reverberation", which was introduced about 25 years later in London.
The case of the instrument and the original legs are made of cherry wood and mahogany and decorated with inlays. The lower keys are covered with black ebony and the upper keys with bone. The nameboard is signed in an oval with:
"Christian Müller
in Bern"
Furthermore, there is a signature in the inside of the piano with the year of manufacture "1784". The hammers are covered with leather and the instrument is double strung. It has a simple single action and 4 wooden pedals for dampers, lute, moderator and "harmonic swell". This "harmonic swell" represents an absolute novelty, which does not exist so far in other pianos of the time. By pressing the pedal, a second bridge presses on the normal bridge and thus changes the sound dramatically. The result is a sound that is completely free of Bass frequencies and a kind of crescendo decrescendo effect can be generated. There are no other instruments known with this system yet except for a few instruments by Muzio Clementi from the 1820s. With high probability Christian Müller is the inventor of this system.
Muzio Clementi spent the summer of 1784 in Bern. (see.: Cramer, Carl Friedrich: "Nachricht von dem Clavierspieler Clementi, Bern im October 1784. IN "Magazin der Musik" Bd. II. Hamburg: Musicalische Niederlage 1784 – 1785, 365-373; pp: 366, 368 und 371.)
Little is known about his visit to Bern, but it can be assumed that he must have met Christian Müller and see instrument with a "harmonic swell" made by him.
Clementi, who was an excellent businessman, copied the system and built it into his own instruments with the name: "Harmonic Swell – Bridge of Reverberation" in 1821. (see: harmonic swell 1821, patent no. 4542, R. Harding, p. 342, R. Burnett pp. 169-170.)
It can be assumed that Christian Müller was dead in 1821. This enabled Clementi to completely "reinvent" the system (especially without any patent rights). Probably the system was nit successful in the Swiss area and only a few instruments existed. Muzio Clementi as a businessman had the chance with his company to generate larger sales as Müller could.
For more information about the company Muzio Clementi & Co. – click here!
Unfortunately, there are no documents about Christian Müller. Otto Rindlisbacher could not find any biographical information about him. Only one instrument in the Historical Museum in Basel – collection of old musical instruments is preserved. It is dated 1801 and bears the signature on the soundboard: " Christian Müller / Orgel Instrumentmacher / in Bühler 1801". It can be assumed that it is the same instrument maker and he was active in his early years in the Bern area and then later in Bühler. Another possibility is that the instrument from 1801 was made by his son who had the same name.
Sources:
Burnett, Richard: "Company of pianos", Finchcocks Press 2004.
Cramer, Carl Friedrich: "Nachricht von dem Clavierspieler Clementi, Bern im October 1784. IN "Magazin der Musik" Bd. II. Hamburg: Musicalische Niederlage 1784 – 1785, 365-373; hier: 366, 368 und 371.
Harding Rosamond E. M.: "The Pianoforte ― its history traced to the Great Industrial Exhibition of 1851", Gresham Books 1978.
Rindlisbacher, Otto: "Das Klavier in der Schweiz. Klavichord – Spinett – Cembalo – Pianoforte. Geschichte des schweizerischen Klavierbaus 1700-1900", Bern Francke 1972.
© Eric Feller – Early Keyboard Collection – January 2019
| | |
| --- | --- |
| Circumference: | 5 octaves (FF – f3) |
---
| | |
| --- | --- |
| Mechanics: | single action with single dampers |
---
| | |
| --- | --- |
| Pedals: | 4 pedals - dampers, lute, moderator, "harmonic swell" |
---
Signature:
"Christian Müller
in Bern"
---