Bland & Weller 1794
Description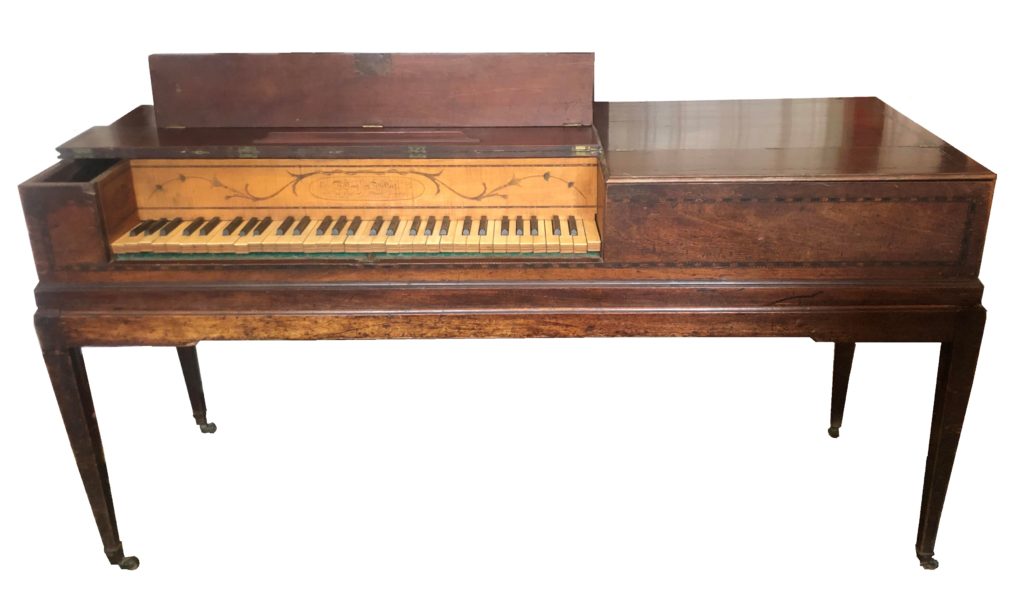 At the end of the 18th century were many instrument makers in London and also a large number of Publisher who sold sheet music. Often, the combination of instrument maker and publisher could be found. In some cases, instruments were also commissioned from well-known piano builders and then given their own name by the music shop and sold. Bland & Weller belonged to one of these publishing houses, which also sold instruments under their name. It is particularly interesting that this music shop was run by a woman – Anne Bland. It is very likely that she was one of the first women in this business.
The instrument presented here was built in London in 1794 and is a partnership between Anne Bland and E. Weller. It is not yet clear whether E. Weller is also a woman.
The case of the square piano and the original stand are made of mahogany and decorated with multi-coloured inlays. The action is a single action with single dampers, double strung and there are two hand stops for dampers and lute stop. The keyboard is made of ivory and ebony. The nameboard is decorated with garlands of marquetry and bears in an oval cartouche the inscription:
"Bland & Weller
No. 23 Oxford Street London."
There is also a signature in pencil under the action with the year of manufacture 1794. The decorations on the inside of the keyboard are interesting: the heraldic badge of the Prince of Wales, symbolized by three ostrich feathers, is embedded in multi-coloured inlays on the left and right. It can be assumed that Bland & Weller wanted to suggest a certain closeness to the Royal Family in order to strengthen sales of the business. So far it is not known that they had this privilege to supply the Royal Family. Other piano builders who held this privilege, such as Joseph Dale or John Broadwood, also mentioned it on the nameboard. Additionally, it can be assumed that Anne Bland as a woman did not easy assert herself in a male-dominated society.
In 1784, Anne Bland set up her music shop in the Oxford Street, London, dealing in sheet music and instruments. Her date of birth is not yet known. In addition to many well-known compositions by various composers, she published an annual collection of sheet music with dances from around 1790.
In 1793 she entered into a partnership with E. Weller and the firm was renamed Bland & Weller. In 1818 she retired from the business. From 1819 to 1821 the name listed in trade directories is Weller & Co. In particular the compositions of James Hooks (1746 – 1827) were published from 1793 until at least 1800. The first English edition of three Mozart piano sonatas (KV 280, 282, 283) was also published.
In 1805 the company bought the copyrights of 360 songs from the composer, musician and writer Charles Dibdin (1745 – 1814) along with the musical stock from his publishing business, which he had to give up due to financial difficulties. They bought the copyright for £1,800 plus an annual fee of £100 for the next three years.
Other surviving Bland & Weller instruments:
1792 – 1818 square piano – Japan/Tokyo: Musashino Academia Musicae, Museum of Musical Instruments, Tokyo Japan
| | |
| --- | --- |
| Circumference: | 5 octaves (FF – f3) |
---
| | |
| --- | --- |
| Pedals: | 2 hand stops - dampers and lute |
---
Signature:
"Bland & Weller
No. 23 Oxford Street London."
---