Anonymous c. 1760
Description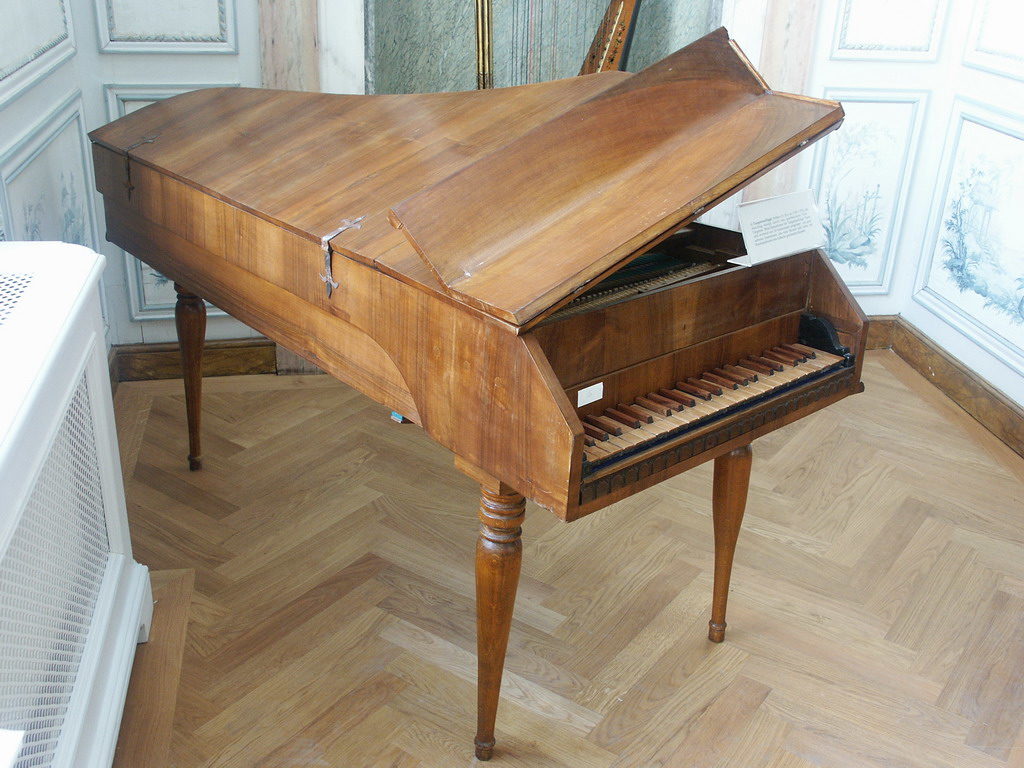 After being almost completely forgotten, tangent pianos became increasingly important in the nascent historical performance practice and Mozart research. Today there are many researches on these "forgotten instruments".
Tangent instruments were present in various European countries such as Italy, England, Germany and Poland. They played an important role in the development of keyboard instruments.
This tangent piano is an early example of instruments from the Italian area. The keyboard is made of boxwood and has carved ornaments on the keys (similar to harpsichords made in Italy). The bass is double strung and triple strung at the other notes. The instrument only has a small compass of 4 octaves (C / E – c3). Below the keyboard there are nicely carved ornaments. The soundboard is made of cypress wood and there are two painted parchment rosettes and a continuous bridge. Many features of that instrument show a clear relation to harpsichord construction. The keys are numbered behind the nameboard and each is decorated with an ornament – a signature is missing.
There is a simple tangent action with bare wooden tangents and single dampers that can be operated via a knee lever.
Due to the design and appearance the instrument can be dated to the time around 1760.
Further research is currently in progress.
Sources:
H. Herrmann: Die Regensburger Klavierbauer Späth und Schmahl und ihr Tangentenflügel, Erlangen: Karl Döres 1928.
K. Restle: Bartolomeo Cristofori und die Anfänge des Hammerclaviers. München 1991.
M. N. Clinkscale: Makers of the Piano, 1700–1820. Oxford University Press, Oxford 1993.
M. Latcham: Franz Jakob Spath and the Tangentenflügel, an Eighteenth-Century Tradition, Galpin Society Journal 2004, article LVII, p. 150
S. Rampe: Mozarts Claviermusik – Klangwelt und Aufführungspraxis, Kassel, Basel, London, New York, Prag: Bärenreiter 1995
G. di Stefano: Tangentenflügel e altri pianoforti con martelletti non imperniati. 2007
B. Vogel, Fortepian polski. Budownictwo fortepianów na ziemiach polskich od poł. XVIII w. do II wojny światowej, (Warszawa, 1995)
B. Vogel, 'Two Tangent Square Pianos in Poland', Journal of the American Musical Instrument Society 20 (1994)
© Eric Feller – Early Keyboard Collection – May 2018
| | |
| --- | --- |
| Circumference: | 4 octaves (C/E – c3) |
---
| | |
| --- | --- |
| Mechanics: | tangent action with single dampers |
---
| | |
| --- | --- |
| Pedals: | 1 knee lever (dampers) |
---
---