Anonymous c. 1650
Description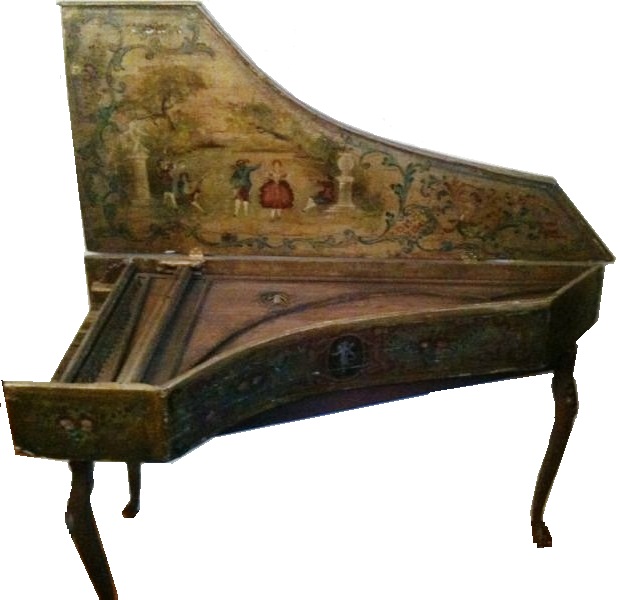 This small harpsichord represents an absolute rarity, since so far nothing comparable exists. It is a children's harpsichord, which was made in Italy around 1650.
The case is covered with fine cloth and decorated on the outside and inside with fine paintings. All around are rocailles, flowers and angels. The upper lid is painted with birds, angels, flowers and tendrils that frame a dancing female person. On the inside of the lid, there is a landscape with lake, which is framed on the left and right with tendrils. Five different people draw attention to themselves: in the foreground is a dancing couple. The lady wears a wide dark red skirt and is facing the viewer head-on and the gentleman is wearing red trousers and a hat. He stands with his back to the viewer and faces the lady. Two more people are on the left. They are musicians. One of them plays a lute. On the right side is another musician playing the flute. The society is framed by the statue of an angel on the left side and an urn on the right side, both of which are elevated on a pillar as a pedestal. In the background are trees that are arranged around a lake.
The whole scene seems very dynamic and not static, suggesting a hopeful life that finds the space for a relaxed personal expression in music and dance. The dance as a central theme acts dedicated staged. The colouring of the entire painting of the inner lid is mainly made in earth tones. Contrasting colours to the landscape are the red and green clothes of the people. Another contrast is created by the outer side of the lid when the instrument is closed.
The harpsichord is single-manual instrument and has an 8′-register. The soundboard has an intricately carved rose in the middle. The compass of the instrument is 3 octaves plus 2 tones and short bass octave (CC, F – g2) and it rests on a later rococo stand. The original jacks are made of wood and it can be seen remains of quills. The keyboard is extremely narrow and far too small for an adult hand. Furthermore, the overall harpsichord is very small in size but incorporates all the characteristics of large instruments. This suggests the assumption that it was a custom-made instrument for the children of an obviously very art-loving and rich family. So far, no comparable instruments can be found. The possibility that it could maybe an instrument from the workshop of Leopold Franciolini, can ruled out.
Further research is currently in process!
| | |
| --- | --- |
| Circumference: | 3 octaves plus 2 tones and short bass octave (CC, F - g2) |
---
| | |
| --- | --- |
| Mechanics: | harpsichord action |
---
---