Longman, Lukey and Co. 1769 – 1773
Description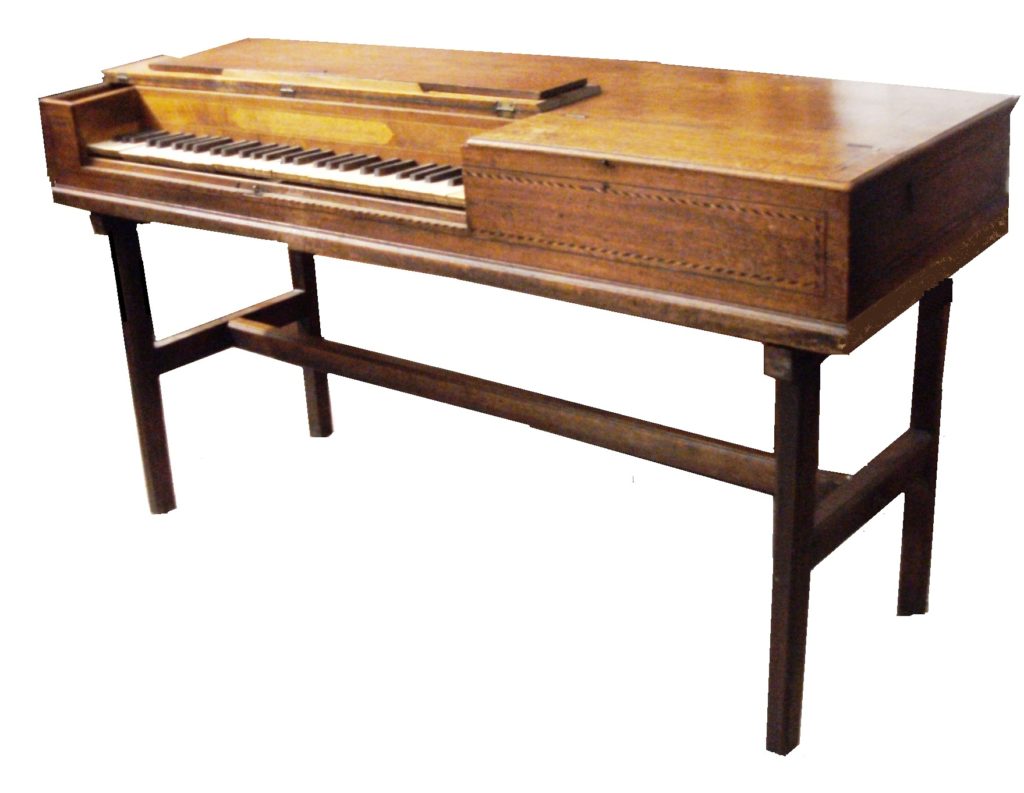 This is the second oldest instrument from the early years of Longman & Broderip in the Eric Feller Collection. The case is made of mahogany and framed with ribbon inlays. Left of the keyboard are three hand stops for divided dampers and lute. There is also a pedal/knee lever for a "nag-heads-swell" (now missing).
The instrument has a simple English single action and is double strung.
The keyboard is made of ivory and ebony. There is usually a scribe line in this case two lines on the key near the point that the key head joins the tail. This is a holdover from harpsichord days where this ornament was common. These lines are made after the keyboard is assembled and will line-up down the key frame.
The nameboard bears the inscription:
"Longman and Lukey & Co. Cheapside London"
Furthermore there is a signature in the inside, which appeared during the cleaning and examination:
"Tuned & Cleaned by me /

this 7th of Febry 1814 /

Ro Ellis

Organist Beaumont "
With "Beaumont" the village Beaumont in the county Cumbria in England is meant. It can be assumed that the instrument belonged to an organist named R. Ellis. Further research is required and in progress.
For more information about the company Longman & Broderip – click here!
Other surviving instruments by Longman and Lukey & Co.:
| | |
| --- | --- |
| Circumference: | 5 octaves FF - f3 |
---
| | |
| --- | --- |
| Pedals: | 3 stops, 1 pedal - dampers, lute, nag-heads-swell |
---
| | |
| --- | --- |
| Signature: | "Longman and Lukey & Co. Cheapside London" |
---