John Crang Hancock c. 1790
Description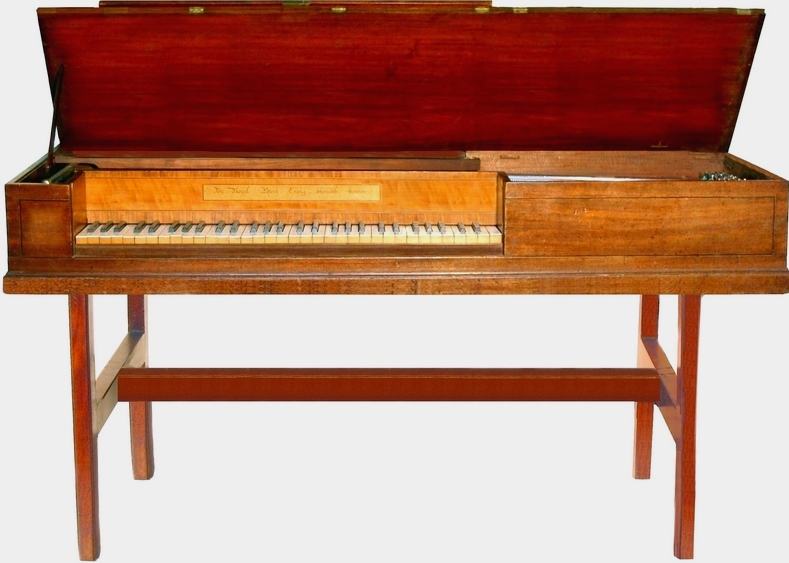 This rare pianoforte from the period around 1785 – 1790 represents an absolute peculiarity: it is so far the only preserved instrument with a newly invented action by Hancock in a square piano.
The case is made of mahogany with inlays of boxwood and ebony. The instruments rests on a trestle stand and the signature on the nameboard reads:
"By Royal Patent Crang Hancock London"
Based on the patent of the "spring key touch", Hancock managed to soften the touch by a spring force while pressing a key. There is a spring on the back of each key which pushes the key back to its original position. Additionally a round wooden plunger rod is sitting on the key which acts as a trigger and is pressed upwards with a spring (moveable in a leather hinge). The hammers are caught on relapse by a felt strip.
John Crang Hancock worked in London from 1777 to 1792 (see: Boalch 3, p. 78). He had his first workshop in No. 32 Parliament Street in Westminster, later working in No. 82 Wych Street, St. Clement Danes.
The London Patent Trial number 1743 dated 10th May 1790 calls John Crang Hancock as the inventor of a mechanism with two springs on the key called "spring key touch".
An action with the "spring key touch" can be found in a transverse grand piano by Hancock from 1782 (see: Harding 1978, p. 60).
On 4th December 1791 Hancock advertises his instruments in the "Observer":
"The Ladys are respectfully informed, that a most capital collection of grand and portable pianofortes possessing unequalled brilliancy and sweetness of tone, are on sale as above, price from twenty to eighty guineas each".
John Crang Hancock built several pianos in the shape of a transverse grand. Two of these transverse grands were exhibited in 1885 at the International Inventions Exhibition in London: one dated from 1779 (owner: A. M. Lawrence), the other from 1787 (owner: Broadwood).
Till today there are no other square shaped pianos survived.
Other surviving instruments by John Crang Hancock:
1790 grand piano – Cobbe Collection Trust Hatchlands Park, England
1782 transverse grand piano – Colt Clavier Collection Bethersden, England
| | |
| --- | --- |
| Circumference: | 5 octaves (FF – f3) |
---
| | |
| --- | --- |
| Mechanics: | "spring key touch" action |
---
| | |
| --- | --- |
| Pedals: | 2 handstops - dampers, lute |
---
| | |
| --- | --- |
| Signature: | "By Royal Patent Crang Hancock London" |
---